WULF Night Vision Rear Scope Add On & IR Illuminator
SKU
WU4000-WULFSHADOWLUX4003+WU5063
RRP
£694.95
incl VAT
TRADE
£325.00
excl VAT
The one-of-a-kind WULF Night Vision Rear Scope Add On is a thing of beauty!
The stylish design, the high-quality materials, and the advanced technology combine to provide the user with an outstanding option to convert their regular Day Scope into a high-performing Night Vision system, with ease and speed.
Designed with the user in mind, the WULF Add On will allow you to shoot in low light conditions and in complete darkness. The device can display high-quality, full-color images during daylight hours and will provide a Black or White image during nighttime use with the choice of two IR Illuminators. The larger of the two Torches - the WULF Shadowlux IR Illuminator (RRP £164.99!) - is a 3-mode versatile torch that allows you to adapt to any nighttime shooting situation with ease and speed. Accompanied by an adjustable focus beam and variable intensity rheostat, the Shadowlux allows you to present the perfect picture through your WULF Night Vision Rear Scope Add On.
As well, the Add On gives the user the opportunity to record high-quality images and videos, allowing you to review and evaluate your performance.
The WULF Night Vision Rear Scope Add On and IR Illuminator is the ultimate package for any Shooter, and like with all WULF products, the end-users are always left impressed.
What makes the WULF Night Vision Rear Scope Add On & IR Illuminator rise above the rest?
A highly sensitive NIR CMOS sensor provides the Shooter with a darker, sharper, and ultimately clearer image, allowing them to identify quarry with ease and speed.

An incredibly well-engineered quick detach collar and sleeve system allows the user to attach the WULF Night Vision Rear Scope Add On quickly to the eyepiece of your Rifle Scope with the added benefit of keeping the Scope's current eye relief.

The WULF IR 850nm Illuminator offers an incredible performance - usually seen from illuminators that retail over £150 - thanks to its unique 3 lens system that provides a projection angle of 2.6°- 5.2°. This ultimately provides the shooter with an illuminator that offers over 400 yards of performance which is far greater than what any Night Vision Add On currently offers on the market as standard. The standard distance achieved with competitors onboard IR illuminators is 200yards. So a 400-yard performance out of the box means the WULF Add On blows its competition out of the water!

Designed for UK weather in mind. The WULF Add On features an IPX-4K rating meaning it can withstand even the heaviest of winter downpours.

The WULF rear Night Vision Add On can be used without an IR illuminator at last light or during full moon situations thanks to the camera's sensitivity. This allows the user to stay covert when needed and seamlessly transforms their day scope into a digital Night Vision Rifle Scope within seconds as the night draws in. For example, targets can be viewed up to 100 yards without an IR illuminator; 20 minutes after day scope falls short.

High Dynamic Range (HDR) The WULF Night Vision Rear Scope Add On is equipped with a high-end HDR image function; image detail will not be reduced during back light shooting. HDR can reach the shooting outcome where normal combinations of aperture and shutter cannot do by compositing various photos of different exposures and conducting tone mapping. The advantage of HDR is that it can maintain the original details to full affect and at the same time demonstrate the original, vibrant colours.

Near-Infrared Technology Near-Infrared technology provides the most accurate, reliable and repeatable results in today's technology. Where standard sensors receive a QE rating of 30% at 850nm, the WULF can receive a QE rating of 55% at 850nm.
Quantum Efficiency (QE) is the measure of the effectiveness of an imaging device to convert incident photons into electrons. (www.photometrics.com)
IR Illuminator: Size, Shape and Spec explained.
The main disadvantage with Infrared Illuminators attached to Night Vision Add On's is the fact they do not have a full optical zoom system meaning the angle the infrared light projected is fixed to a certain degree. Alternatively, some do offer a simple zoom-to-flood system, which works by pulling the head of the illuminator in and out. What this does is alter the angle of the beam from narrow to extremely wide, which reduces the overall effective range of the product.
This is where the unique 3 lens optical design of the WULF infrared illuminator ensures the WULF AOD does not run into these problems. The shooter can alter the exact angle from spot to flood (a range of 2.6°- 5.2°) of which they wish to achieve and in doing so they are actually altering the amount of infrared light that is being reflected back to the WULF Night Vision device.
One of the major benefits the WULF Add On device has over its competitors is the distance and clarity it can detect targets out to. The way the WULF gets this clarity and distance is down to the illuminator's internals and the diode they have chosen, which is an LED, rather than a Laser.
The advantages of Laser diodes are the effective distance these devices can emit light. However, the quality and clarity of the beams tend to be grainy which reduces the actual clarity of the beam. This is where the symbiotic relationship the WULF has with the internal 3 lens optical system comes into its own.
The problem with LED's is the fact the emitting angle of the LED is very wide and reduces the effective range if they are not paired with an optical lens design. This is why the WULF not only produces a very clean beam but one that can be projected to long distances and are usually unobtainable by standard LED torches.
A final point to note is that most illuminators do have spot-to-flood functions however, the WULF illuminator's 3 lens optical design allows the torch to act as a projector, which produces a uniform and equal spread of light across the whole sight throughout spot-to-flood. This benefits the shooter as they are able to identify quarry across the whole Scope's FOV as opposed to the usual small and narrow FOV given to them by competitors' illuminators.
Please Note: Rifle Scope not included.
| | |
| --- | --- |
| Brand | WULF |
| Popularity | WULF Night Vision Rear Scope Add On & IR Illuminator |
| SKU | WU4000-WULFSHADOWLUX4003+WU5063 |
| Unit Type | Night Vision |
| Detection Range | 400m |
| Display Resolution | 1280x960 |
| Display Type | LCOS |
| FOV @ 100 yards | 20° |
| Infrared Illuminator Wavelength | 850nm |
| Magnification (Optical) | 1.7x |
| Objective Lens Diameter | 22mm |
| Refresh Rate | 50HZ |
| Sensor Resolution | 1920x1080 |
| Video Recording | Yes |
Specs
WULF NIGHT VISION REAR SCOPE ADD ON
Optical Performance
Ocular Magnification: 1.7X
Objective Aperture: 18mm
F# for Objective Lens: 1.2
Viewing Range: 20°
Focusing: 3m - ∞
EVF
LCoS 1280x960 Resolution
Angle Of View: 34°
Exit Pupil Distance: 25mm
Diameter: 22mm
Imager
Multiple exposure fusing HDR Image
High-sensitivity NIR CMOS Sensor
Size 1/1.8''
Resolution : 1920X1080
TF Card
Support SDHC 4GB~128GB TF Card
Hardware Buttons
Power On/Off
Snap
Mode selection
UP/IRCUT
DOWN
Operation
Preview
Capture JPEG file in TF storage
Record MP4 file in TF storage
Playback media file from TF storage
Power
External Power Supply - DC 5V/2A
1x 18650 Lithium Battery 3.6-4.2 V
Sustain 3 Hours Battery Power Consumption
Low Battery Warning
System
OSD Menu Display
4 Modes (Capture, Video, Playback Menu)
Single Frame Image Capture
Video Image Record
Playback Image
Delete Image
TF Card Format
Power Save (Off / 1 min / 3min / 5 min)
Language: English / German / Swedish / Spanish / Danish / French / Italian
System Reset
Light Freq. 50/60HZ
RTC Setting
Version
Size
120*87*63mm (without eye protector)
Weight
400g (without battery)
Adaptor Mount
≤45mm
Ingress Protection
IPX-4K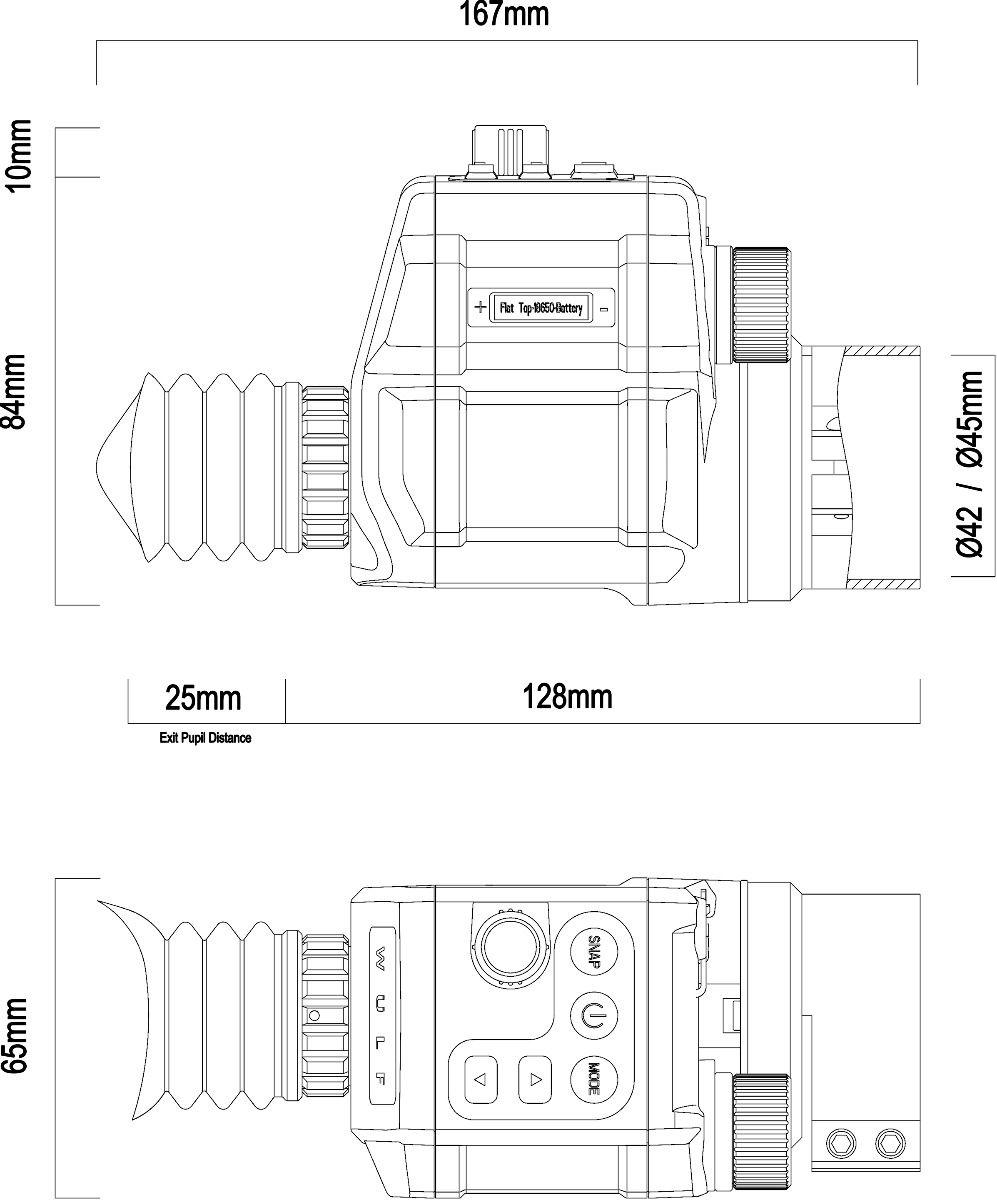 WULF SHADOWLUX IR ILLUMINATOR TORCH
Choice of 850nM, 940nM and White
850nM Wavelength
940nM Wavelength
53mm Head
Up to 3hrs Run Time
Variable Intensity
Focusable
300m Beam
Rechargeable Battery Included
WULF NIGHT VISION IR ILLUMINATOR
Projection Angle
2.6°- 5.2°
IR
IR Power 2w - 5w
IR Wave Length 850nm
IR Projection Distance 400m @ 5w 2.6°
Power
1x 18650 Lithium Battery 3.6 - 4.2 V
Sustain 1 .5 hours @ 5w Battery Power Consumption
Size
118*56*85mm
Weight
415g (without battery)
Ingress Protection
IPX-4K
Features
Optical Magnification
In the box?
WULF Night Vision Rear Scope Add On
WULF Shadowlux IR Illuminator Torch
WULF 850 IR Illuminator
WULF Adjustable Torch Mount (Fits 30mm and 1inch Tubes)
Eyepiece Adaptor Collars (Fits 45mm and 42mm Eyepieces)
Eyepiece Adaptor Collar Inserts (Thicknesses Available: 0.8mm, 1.2mm, 1.6mm, 2mm)
2 x Rechargeable 18650 Battery with Battery Pip
Battery Charger
2x Allen Key
TF (SD) 32GB Memory Card
USB Cable
Wulf Battery Charger & Cable
Remote Dimmer Switch
18650 3400 mah battery
Picatinny Rail Mount
Instruction Manual
Warranty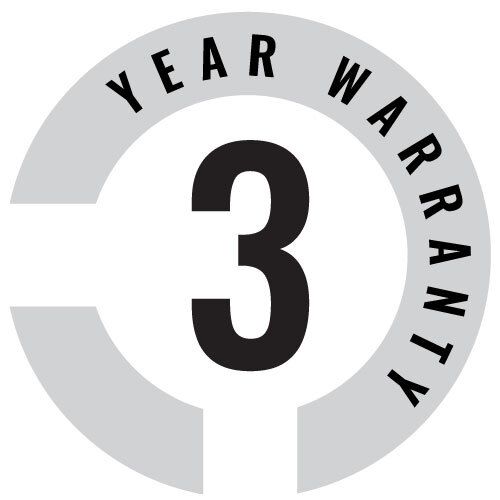 Three-year limited warranty*
Your WULF product is warranted to be free of defects in materials and workmanship for three years after the date of purchase. In the event of a defect under this warranty, we will, at our option, repair or replace the product, provided that you return the product postage prepaid.