Optisan EVX 10x44 IR MIL-MH10 Rifle Scope
RRP
£270.00
incl VAT
TRADE
Special Price
£162.34
excl VAT
Optisan EVX 10x44 IR MIL-MH10 Rifle Scope
The new Optisan EVX 10x44 riflescope is ideal for airguns, rimfires and even full bore rifles.
The Optisan EVX 10x44 is considered one of the most versatile scopes on the market with the complete range of features that make it a perfect scope for many shooting disciplines.
The Optisan EVX 10x44 comes with an illuminated MH10 reticle which is great for varminting and target shooting.
The Optisan EVX 10x44 comes with lockable target turrets which are thumbwheel adjustable making it quick and easy to make precise adjustments.
The Optisan EVX 10x44 has parallax adjustment via a side focus wheel which offers adjustment from 10 yards to infinity.
Supplied with the Optisan EVX 10x44 is a sunshade and a 3 inch sidewheel.
Complete with every EVX Riflescope scope is a set of features that the MTC legacy has used in the past but have now been restyled and updated giving the shooter the newest specs needed in today™ shooting situations.
More Information

| | |
| --- | --- |
| Brand | Optisan Optics |
| Popularity | Optisan EVX 10x44 IR MIL-MH10 Rifle Scope |
| SKU | 37535 |
| Highest Magnification | 1x-10x |
| Illuminated Reticle | Yes |
| Reticle Plane | Second |
| Tube Diameter | 30 mm |
Optisan EVX 10x44 IR MIL-MH10 Rifle Scope
Magnification (High): 10X
Magnification (Low): 10X
Objective Diameter (mm): 44mm
Outer dia. Objective (mm): 53mm
FOV (min.mag)(ft/100yds): 11
FOV (max.mag)(ft/100yds): 11
Eye relief (in): 3.8"
Exit Pupil (Max mag.) (mm): 4.4mm
Exit Pupil (min. mag.) (mm): 4.4mm
Diopter Range (dpt): +2/-2
Parallax Adjustment: 10yds - infinity (100yds parallax free)
Coating: Fully Multi-coated
Tube Construction: One-piece tube, aircraft aluminium
Elevation Adjustment (value per click): 0.1 mrad
Windage Adjustment (value per click): 0.1 mrad
Turret Style (Elevation): Push pull lockable
Turret Style (Windage): Push pull lockable
Travel Per Rotation: 4.8 mil
Elevation adj. range: >= 15 mil
Windage adj. range: >= 15 mil
Eye Piece Diameter (in): 1.73"
Eye Piece Diameter (mm): 44mm
Eye Piece Length (in): 2.8"
Eye Piece Length (mm): 72.2mm
Mounting Length rear (mm): 65mm
Mounting Length front (mm): 50mm
Tube Dia. (mm): 30mm
Length (in): 13.30"
Length (mm): 338mm
Weight (g): 693g
Weight (oz): 24.4oz
Surface Finish: Matte Black
Functional temperature: -20 ~ 50 degree celcius
Storage temperature: -20 ~ 50 degree celcius
Submersion tightness: JIS 7
Reticle: SFPMH10X
Calibrated Ranging Power: 10X
Focal Plane: Second
Illumination: 6 Steps illumination with off setting in between
Made in China
Limited lifetime warranty
Optisan EVX 10x44 IR MIL-MH10 Rifle Scope
Magnification (High): 10X
Magnification (Low): 10X
Objective Diameter (mm): 44mm
Outer dia. Objective (mm): 53mm
FOV (min.mag)(ft/100yds): 11
FOV (max.mag)(ft/100yds): 11
Eye relief (in): 3.8"
Exit Pupil (Max mag.) (mm): 4.4mm
Exit Pupil (min. mag.) (mm): 4.4mm
Diopter Range (dpt): +2/-2
Parallax Adjustment: 10yds - infinity (100yds parallax free)
Coating: Fully Multi-coated
Tube Construction: One-piece tube, aircraft aluminium
Elevation Adjustment (value per click): 0.1 mrad
Windage Adjustment (value per click): 0.1 mrad
Turret Style (Elevation): Push pull lockable
Turret Style (Windage): Push pull lockable
Travel Per Rotation: 4.8 mil
Elevation adj. range: >= 15 mil
Windage adj. range: >= 15 mil
Eye Piece Diameter (in): 1.73"
Eye Piece Diameter (mm): 44mm
Eye Piece Length (in): 2.8"
Eye Piece Length (mm): 72.2mm
Mounting Length rear (mm): 65mm
Mounting Length front (mm): 50mm
Tube Dia. (mm): 30mm
Length (in): 13.30"
Length (mm): 338mm
Weight (g): 693g
Weight (oz): 24.4oz
Surface Finish: Matte Black
Functional temperature: -20 ~ 50 degree celcius
Storage temperature: -20 ~ 50 degree celcius
Submersion tightness: JIS 7
Reticle: SFPMH10X
Calibrated Ranging Power: 10X
Focal Plane: Second
Illumination: 6 Steps illumination with off setting in between
Made in China
Limited lifetime warranty
MIL-MH10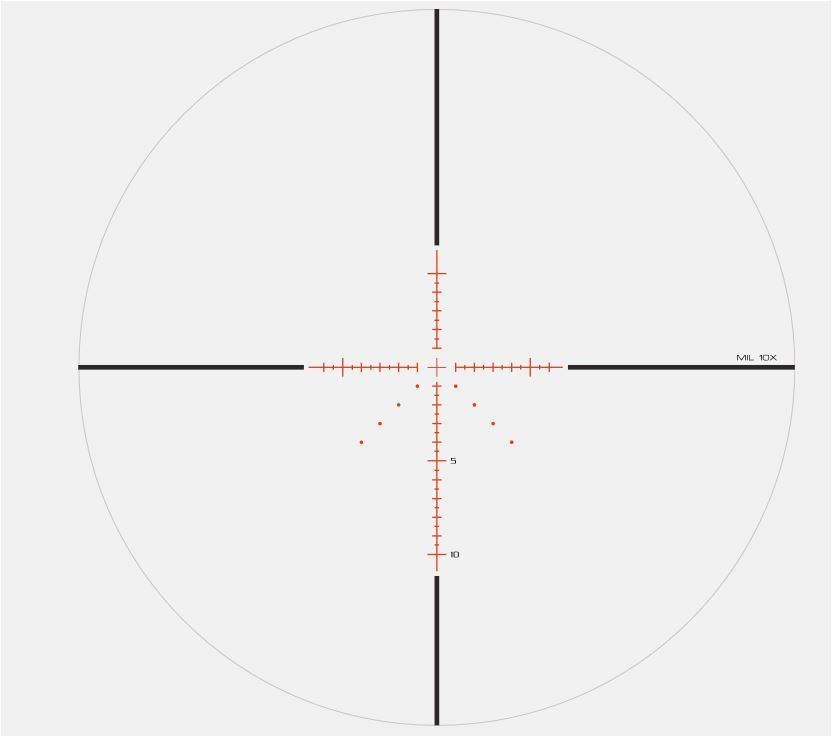 Limited lifetime warranty